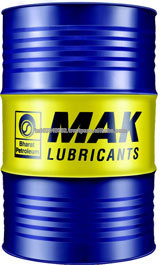 MAK HYDROL
ISO VG: 15, 22, 32, 46, 68, 100, 150,

Non ISO VG: 12, 37, 57, 81, 121 & 176
These are high quality solvent refined mineral oils.
These are recommended for bearing application where anti-wear type oil is required.
Exhibits good oxidation, anti-rust, anti-wear and anti-foam properties

Have excellent compatibility with the seals
IS 3098 : 1983 [Reaffirmed Nov., 1998]

IPSS : 1-09-022

IS 10522 : 1983 [Reaffirmed Nov., 1998]

Vickers V-104C Vane pump test

DIN 51 524 Part 1 HL Type
These oils are not hazardous under normal use conditions. For further guidance appropriate Material Safety Data Sheet can be referred.